Laguna de Bay

topographic map

Click on the map to display elevation.
About this map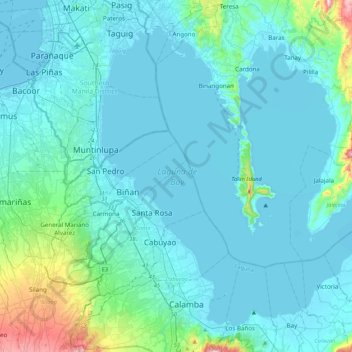 Minimum elevation: -3 m
Maximum elevation: 706 m
Laguna de Bay (literally "Lagoon of Bay"; Tagalog: Lawa ng Bay; IPA: ), also known as Laguna Lake, is the largest lake in the Philippines. It is located southeast of Metro Manila, between the provinces of Laguna to the south and Rizal to the north. A freshwater lake, it has a surface area of 911–949 km² (352–366 sq mi), with an average depth of about 2.8 metres (9 ft 2 in) and an elevation of about 1 metre (3 ft 3 in) above sea level. The lake is shaped like a crow's foot, with two peninsulas jutting out from the northern shore. Between these peninsulas, the middle lobe fills the large volcanic Laguna Caldera. In the middle of the lake is the large island of Talim, which falls under the jurisdiction of the municipalities of Binangonan and Cardona in Rizal.
Other topographic maps
Click on a map to view its topography, its elevation and its terrain.

San Pedro, Laguna, Calabarzon, 4023, Philippines
Average elevation: 51 m